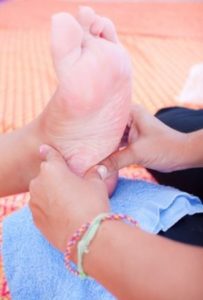 Mother's Day is this weekend and what better way to celebrate your mom than by taking her aboard The Odyssey on Sunday May 11th. There will be dancing, so now is not the time to let heel pain ruin your day. Home treatment and therapy can help manage your discomfort, so that you can have the best day ever with a very special lady.
Heel pain is usually caused by inflammation to the plantar fascia (the thick band of tissue that connects your heel to your toes). The tissue tears when it's put under a lot of strain, therefore athletes and people who are overweight are at a higher risk of developing this condition. Usually people wait until the pain is extremely severe and needs more complicated therapy. If you treat plantar fasciitis at the first sign of pain, it usually means a less intense recovery period.
Protecting your feet begins at home. If you feel any pain in your heels, rest them for a period of time. You should also roll a frozen water bottle along your arches to stretch the plantar fascia and ease swelling and pain. Before you even get out of bed, stretch your calves and your feet. Stretch these areas every day, multiple times. Wear shoes at all times when you're on your feet. Choose ones that are more rigid and bend only in the toe area. If they are too flimsy in the heel, they might be at fault for exacerbating the pain. There are also shoe inserts and custom-made orthotics that can help prevent and treat pain in your heels.
Call Dr. Mitchell Wachtel at 888-616-2512 to schedule an appointment at one of our three Massachusetts offices. We can help diagnose your heel pain and answer any questions you might have about treatment.