OUR PODIATRY SERVICES
include almost everything you need to
keep enjoying life regardless of your age.
Feet, Ankles, Nails, and More. Here to Help with Foot Pain
Call Our North Andover Podiatry for Appointment 978-794-8406
I am a Foot Doctor, a runner, a dad and a poet who has been treating foot, ankle and nail problems for over two decades.  I have a terrific practice with offices in Andover, Lowell and Haverhill with a great staff that can help you with the following:
We help people with diabetic foot problems by offering wound care, a diabetic shoe program, braces, custom orthotics and much more. With our state-of-the-art on-site X-Ray machine, we know precisely where the problem lies and how to help you deal with it. Diabetes can impact every aspect of your life. Dr. Wachtel and his staff offer comprehensive treatments to prevent limb loss and treat diabetic foot conditions.
Your child's feet grow and change right along with them, making it crucial to be very aware of any pain they have as it can set the stage for future problems.
Too often, the health of the skin and nails is forgotten – but keeping all aspects of the foot and ankle are equally important. We help people with common things such as ingrown toenails, fungal nail infections and many other issues.
Your feet are a pivotal part of your active lifestyle – so when they hurt, it does more than just slow you down. Don't let foot pain take you out of the game. Dr. Wachtel is both a runner and a volleyball player who has extensive understanding of sports related foot injuries and treatments.  Dr. Wachtel and his staff serve their patients with the utmost care at their three office locations in North Andover, Lowell, and Haverhill.
The workplace can be a common cause of foot pain. Whether you stand all day, or sit at a desk, it's crucial to understand the importance of your foot health.
Other Foot Issues
There are numerous other issues that I treat but can't list everything.  Call my office today and let's talk.  Here are some quick links to a few of the frequent issues we help people out with:  bunions and bunion pain relief, diabetic foot issues, stinging toes, pediatric foot issues, ingrown toe nails.  We encourage you to give our office a call at
---
DPM Doctor Wachtel is a Podiatrist, a Foot Doctor, who has North Andover Podiatry, Haverhill Podiatry, Lawrence Podiatry, Lowell Podiatry office.
Most Common Feet Problems
You may click on these common foot issues to learn more about them: heel pain, sports foot issues, diabetic foot issues, toe stinging, childrens podiatry, bunions, and many more.  If you suffer from any of these, call us today and let us help you eliminate them.
North Andover Podiatrist Appointments Call 978-794-8406
---
This months focus is on Neuroma.  Enjoy this brief explanation of what Neuroma (pinched nerve) is and how it can be treated.
Neuroma (pinched nerve) may happen after your foot incurs an injury, is exposed to repetitive stress, foot deformities (bunions, flat feet, high arches), or can be caused from wearing high heels or poor fitting shoes. If you ever feel pain to the toe or ball of your foot, tingling and/or numbness in your toes or ball of your foot or perhaps swelling then you may have Neuroma. The best thing to do is have this treated by a podiatrist who can evaluate your foot and help you come up with a treatment to get you back on your feet. Its also important not to misdiagnose this issue as you want to be sure that its nothing more than neuroma (pinched nerve).
Treatments may be as simple as a pair of better shoes, orthotics (shoe inserts), anti-inflammatory medicine, if need be cortisone injections, and more. Your podiatrist will help you with the best solution.
Set an appointment with your podiatrist, have it properly evaluated and then have a good and effective treatment plan for this or any other foot pain issues you may have. Doctor Wachtel helps people with foot problems in Andover & North Andover area, Lawrence & Haverhill area and Lowell region. Appointments can be made to see him quickly so call today!
Click here for driving directions to Doctor Wachtel's podiatry office.
Foot Problems We Treat
Dr. Wachtel specializes in several different areas. They include:
We are affiliated with:
Whittier Rehabilitation Hospital – Bradford, MA
Whittier Rehabilitation Hospital – Westborough, MA
The Whittier Pavilion – Haverhill, MA
Merrimack Valley Hospital – Haverhill, MA
Holy Family Hospital – Methuen, MA
Saints Medical Center – Lowell, MA
Lowell General Hospital – Lowell, MA
Our Office Locations
451 Andover St. Ste 300, North Andover, MA 01845
Call: 978-794-8406
817 Merrimack St. Suite #2, Lowell, MA 01852
Call: 978-441-9519
145 Ward Hill, Haverhill, MA 01835
Call: 978-794-8406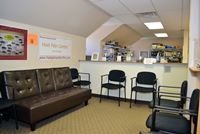 Learn More about our Lowell Podiatry Office