HEAL PAIN CAUSES AND TREATMENTS
Heal pain is common and when not properly
treated, it can hinder your lifestyle for ages.
Heel Pain Causes and Treatment Options
Heel pain is one of the most common problems we deal with at our office.  And what a problem it is!  We are ready to help so give us a call at 978-794-8406.  When you're experiencing aching or stabbing symptoms in your heel, it's not just a matter of pain. The symptoms can keep you totally on the sidelines, preventing you from working, living, and playing your best.Despite this, many people still try to push through their heel pain, rather than doing something about it. Don't be one of them! This will only make your problem worse, and our foot and ankle experts provide a variety of treatment options (including some cutting-edge technology) that can usually relieve your pain in a short time frame.

 
Treating Heel Pain
Regenerative Medicine Now Offered for Heel Pain and Achilles Tendinitis
If you are suffering from heel pain or achilles tendinitis then there is a new amniotic cell injection procedure known as "regenerative medicine". We offer this procedure which can eliminate the need for surgery. Call to learn more at 978-794-8406.
Diagnosis
Heel pain can have many causes, like plantar fasciitis, Achilles tendinitis, bursitis, nerve issues, stress fractures, and more. Our experienced staff will get to the bottom of your heel pain, isolating the root causes so we can develop the most appropriate treatment plan. In addition to a thorough physical examination, we offer in-office diagnostic tools, such as X-ray and ultrasound, to examine the state of soft tissues and bone.
Treatment Solutions
We offer a wide range of procedures, from traditional, conservative remedies performed at home to state-of-the-art technologies and procedures. We are totally focused on crafting a treatment course that provides the best care and the best fit for your specific condition and lifestyle.
Sometimes, a few days of rest and a new pair of shoes that provides appropriate cushioning and support is all you really need! For those who need a little extra help, more advanced treatments can include:
Physical therapy. We'll coach you through stretches, exercises, and even massage techniques that can help you ease pain, stretch leg muscles, and reduce pressure on the heel.
Inserts or custom orthotics. Heel pain is often caused by an underlying inefficiency with the way your feet are structured, or how they move. An appropriate insert—either prefabricated or custom fitted by our team—can not only cushion the aching heel, but correct biomechanical problems that cause heel pain in the first place.
Injection therapy. An injection of cortisone may be added to other treatment procedures to significantly reduce swelling and inflammation associated with many heel pain conditions.
Laser therapy. This high-tech solution uses a beam of light to stimulate your own natural cellular functions. This helps increase circulation, draw more blood and oxygen to a painful area, and jump-start your body's growth and repair processes. It is a great choice for patients who haven't had much success with other treatments, or who need a quick recovery.
Surgery. This is a last resort only, but occasionally may be warranted with some severe forms of heel pain. In order to provide the best outcome with the smallest possible disruption and quickest recovery time, our office employs a minimally invasive surgery known as the Topaz Procedure. After making a small incision, a small surgical wand is used to apply radio frequency waves to your damaged tissues, creating "micro-abrasions" that the body works to quickly heal.
Want to Learn More About Your Heel Pain?
As we said, heel pain can have many different causes, symptoms, and treatment approaches. If you'd like to learn more about your pain, what you can do about it, and how you can prevent it, you can order a FREE copy of Dr. Wachtel's The Heel Pain Book: A Guide to Understanding It's Causes and Treatments. It's a short read, and it's packed with useful information that can help you (or anyone you love) for years to come.
You can also click any of the links below to read our informative articles on specific heel pain conditions:
To schedule an appointment with our team in North Andover, Harverhill, or Lowell, please give us a call today at (978) 794-8406.
Foot Problems We Treat
Dr. Wachtel specializes in several different areas. They include:
We are affiliated with:
Whittier Rehabilitation Hospital – Bradford, MA
Whittier Rehabilitation Hospital – Westborough, MA
The Whittier Pavilion – Haverhill, MA
Merrimack Valley Hospital – Haverhill, MA
Holy Family Hospital – Methuen, MA
Saints Medical Center – Lowell, MA
Lowell General Hospital – Lowell, MA
Our Office Locations
451 Andover St. Ste 300, North Andover, MA 01845
Call: 978-794-8406
817 Merrimack St. Suite #2, Lowell, MA 01852
Call: 978-794-8406
145 Ward Hill, Haverhill, MA 01835
Call: 978-794-8406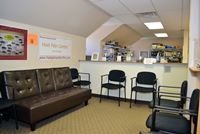 Learn More about our Lowell Podiatry Office