LASER THERAPY TREATMENT
Our K-Laser Therapy offers
a variety of foot treatments.
Why Use Laser Therapy for Nail Fungus?
One of the more recent technologies for treating podiatric conditions is laser therapy. Our office uses the K-Laser to address a multitude of foot ailments such as heel pain and fungal toenails. This procedure is virtually painless and very effective in cutting down healing time while reducing pain and discomfort.  Oral therapy may be toxic to your liver while laser therapy can help you avoid taking any oral medicines.
What Is Laser Therapy?
Laser therapy utilizes different specific wavelengths of light to heal the body. Some of the therapeutic effects of laser treatment include faster healing time, increased circulation, pain relief, and a decrease in swelling. One of the biggest benefits it offers people is the stimulation of tissue repair and growth. Wounds heal more quickly when skin grows faster. K Laser was the first of its kind to use a dual infrared wavelength/frequency system. The dual wavelengths assist in healing the body quickly while reducing pain. The dual frequencies assure you that each treatment is as effective as possible.
The Effects of Laser Therapy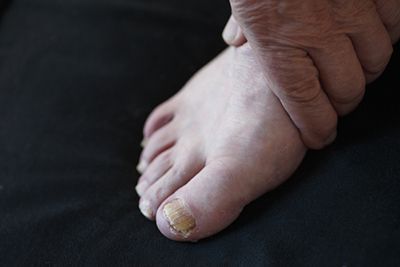 Lasers affect both your cells and your well-being. The use of lasers increases the metabolic rate of cell activity and improves how nutrients are passed across cell membranes. This results in an upsurge of cellular energy, which increases your overall health. Laser therapy does nothing more than support your own body's natural healing response, but it does it at a quicker and more advanced rate than normal. Water, oxygen, and nutrients are brought to the wounded site, which creates an extremely optimal environment for healing. These conditions promote the reduction of swelling, inflammation, stiffness, muscle tightness, and overall pain.
What Can Laser Therapy Treat?
Laser therapy can be used for many different conditions. From a podiatric standpoint, we use it for plantar fasciitis, toenail fungus, sprains, strains, Achilles tendinitis, arthritis, diabetic neuropathy, diabetic foot ulcers, and fractures. The severity of the condition has a direct effect on the number of treatments. Acute conditions might take 1-6 sessions, while a chronic condition might necessitate 15 or more sessions. Many people will begin to see improvements to their condition immediately after their first visit. If you don't see a change straight away, that does not mean it isn't working. The results of laser therapy are cumulative, and you will likely see results in about six to eight therapy sessions.
Laser Therapy at Mitchell Wachtel, DPM
If you have a foot condition that is causing you pain and aggravation, give Dr. Mitchell Wachtel, podiatrist North Andover, a call right away at 888-616-2512 to schedule an appointment at one of three Massachusetts office locations. We use laser therapy to help your body help itself. The use of the K laser is fairly new, and we think it is the future of podiatric health (foot health). Do not suffer unnecessarily from ailments that can be quickly healed using laser therapy. Call today so we can get you started on the path to health and wellness.
Foot Problems We Treat
Dr. Wachtel specializes in several different areas. They include:
We are affiliated with:
Whittier Rehabilitation Hospital – Bradford, MA
Whittier Rehabilitation Hospital – Westborough, MA
The Whittier Pavilion – Haverhill, MA
Merrimack Valley Hospital – Haverhill, MA
Holy Family Hospital – Methuen, MA
Saints Medical Center – Lowell, MA
Lowell General Hospital – Lowell, MA
Our Office Locations
451 Andover St. Ste 300, North Andover, MA 01845
Call: 978-794-8406
817 Merrimack St. Suite #2, Lowell, MA 01852
Call: 978-441-9519
145 Ward Hill, Haverhill, MA 01835
Call: 978-794-8406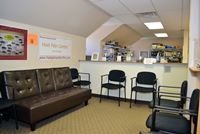 Learn More about our Lowell Podiatry Office