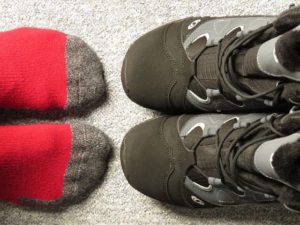 Sleet, and snow, and ice … oh my! Winter is definitely here, and that means pulling out the winter footwear. Maybe this year you could put aside the old, worn-down shoes from last year and rethink your boot choice. You don't have to sacrifice comfort for style, or vice versa. There are so many good options that you are bound to find something appealing.
Everyone's feet are different, and depending on unique circumstances (deformities, arch differences, etc.) every person's boot choice will probably be different as well. However, there are some things to generally consider when purchasing a new pair of winter shoes.
Function. The most important thing is to make sure a boot does what it's supposed to do, which is to keep out the cold. You can find footwear that has a lot of insulation, but that is also fashionable.
Tall vs. Short. Tall boots are generally better as they keep snow out of your shoes and off your pants. They are not very well suited for hiking, though, so if this is your thing choose shorter boots.
Performance. To be able to do what they are suited for, your boots need to be well made using good materials. If cold or snow is getting in, that means there are flaws with the shoe and the performance isn't as good as it should be.
Comfort. We all want our footwear to be comfortable, and with boots they should also be cozy. This means that the material used for the lining is very important.
Fit. As with all shoes you should make sure your winter boots fit you. It's more likely that you will be wearing thicker socks, so plan accordingly. Try on your boots with your intended socks to make sure you get the absolute perfect fit.
If you would like to know more about picking the right winter footwear, call Dr. Mitchell Wachtel at (978) 794-8406 to schedule an appointment in our North Andover, MA office.