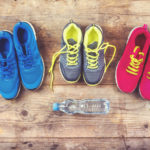 When it comes to picking the perfect running shoes you need to consider what type of running you will be doing—trail running with the Friends of North Andover or maybe you're more of a track runner—and what your foot type is. These two factors, among others, will determine what the best type of shoes will be for you.
There are three categories of running shoes: road running shoes, trail running shoes, and cross training shoes. Road running shoes are more flexible and lightweight. They are perfect for those quick and easy outdoor runs. Trail running shoes are more durable and are made for overcoming obstacles. They have a lot of tread and traction and are meant to get dirty! Cross training shoes are good for running on a treadmill or in a gym type setting. They have a lighter weight sole than a shoe that is meant for outdoor use. Understanding your foot type is also important. If you tend to overpronate (flatfoot) you need shoes that will control your range of motion. Underpronators (high arches) will need more cushioning. If you have a normal foot type you have your choice of footwear.
In order to get a good fit we suggest that you get professionally fitted every time. Feet can change shape and size depending on a lot of different factors, so the size you wore last time may not be the same size you wear this time. It's best to get fitted at the end of the day because your feet will be at their largest and most swollen during this time. Also, get both feet measured because one foot may be slightly smaller or bigger than the other. Make sure you bring along the socks you plan to wear when you run, as well as any orthotics you might use. Remember to be open-minded. Men and women can wear each other's shoes and you can wear a size that is different from the norm. As long as you're comfortable that's the most important thing.
If you have more questions about picking the right running shoes call Dr. Mitchell Wachtel at (978) 794-8406 to schedule an appointment in one of three Massachusetts office locations.