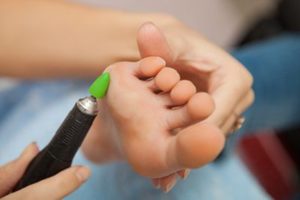 It's that time of year again. The time when the air gets a little colder, the holiday lights go up, and the invitations to the parties start rolling in! It's always fun to get your nails done before a big holiday party, but just make sure you practice pedicure safety or you might end up with a foot fungus that wasn't invited for the holiday fun.
Getting a pedicure doesn't sound like a very scary thing to do, but spas can be breeding grounds for fungus. This is especially dangerous for people who have diabetes because a small issue for some people can be a very big problem for diabetics. This is why it's important to be diligent about pedicure safety.
Don't shave your legs right before a pedicure appointment. Bacteria are microscopic and can enter your body through even the tiniest cut or nick in your skin.
Keep those calluses in check. Let your technician slough away your dead skin with a pumice stone. Let her know if you have diabetes so she can either skip this step or do it very carefully.
Say no to cuticle sticks. When you manipulate the cuticles too much it can open up more passageways for bacteria to enter. This is especially important to communicate if you have diabetes.
Bring your own tools. There is no better way to know that your tools are sterile than if you bring your own.
Check for cleanliness. Do your homework on the place you're going to get your pedicure. Make sure they sterilize all of their equipment in an autoclave. Footbaths are typically cleanest if they have plastic inserts that are then discarded and replaced every time.
It's important to communicate to your nail technician about what you feel comfortable with and what you would prefer to have happen. If something makes you uncomfortable let them know and they should do their best to accommodate you. Above all, let them know if you have diabetes so they are able to be even more gentle and careful with your feet.
For more information about safe pedicures call Dr. Mitchell Wachtel at (978) 794-8406 to schedule an appointment in one of our three Massachusetts offices: North Andover, Haverhill, or Lowell.