Sunday August 3rd is the Lowell YMCA Triathlon. Athletes know the importance of wearing the right sports shoes to avoid things like arch pain and heel pain. Sometimes we need to utilize orthotics in order for our feet to stay safe, healthy, and comfortable. There are different types of inserts that you can wear to avoid pain.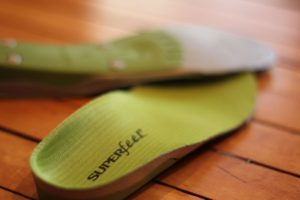 are meant to help with foot alignment. They work directly on the feet but have an impact on the legs, hips, and back as well. There are different types that work for different types of foot conditions. Rigid styles are made out of hard material that are meant to control the range of motion of your feet. They should be somewhat flexible while offering good arch support. These are the best kind for runners with low arches or flat feet, because they provide the support that is needed. Soft types are better for athletes with high arches. They are more cushioned and flexible while still supporting your arches.

It is important to go to someone who really understands feet when looking for orthotics. We can figure out what type of support you need and design the right orthotic for you. Keep in mind that it might feel uncomfortable at first, especially if it's a rigid orthotic. We'll instruct you how to break it in over the course of a few days or weeks. At first you wear it for short periods when you are doing your daily activities. Increase the amount of time spent wearing them until you can comfortably walk in them for a full day. Once you reach this point you can start using them in your sports shoes.

If you have questions about using custom-made orthotics for treating arch pain, call Dr. Mitchell Wachtel at (978) 794-8406 to schedule an appointment at one of our Massachusetts offices.