Your summer plans may include spending lazy days walking along the beaches near Cape Cod in your flip flops. Be careful though, because these summer shoes may end up causing you heel pain, which should not be a part of your plans. Make sure you take a few extra precautions so your feet can stay comfortable and your summer plans aren't ruined.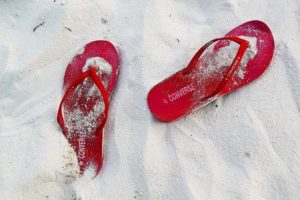 Flip flops have become a summer staple in our society. People wear them constantly, instead of only for showering at the gym or walking the beach. They may feel comfortable now, but they can lead to a number of problems with your feet. Since they offer virtually no support they can lead to arch problems and plantar fasciitis, among other things. They also provide your feet with absolutely no protection. They are basically a thin layer of rubber or plastic between you and the elements. A nail could easily puncture through the soles into your feet.
Instead of wearing these flimsy sandals, find a sturdy pair that allows your feet to breathe, but also gives them what they need: protection and support. If you are a diabetic you shouldn't be wearing flip flops at all. It's far too risky; you might injure your foot and not even know it. Find an alternate pair of shoes that offer arch support, heel cups, and toe support. However, the best pair of shoes you will wear is a good, supportive pair of athletic shoes. They provide your feet the most protection and last a lot longer than a cheap pair of flip flops will.
For all your foot concerns, call Dr. Mitchell Wachtel at (888) 616-2512 to make an appointment at our Haverhill, MA, office or one of our two other locations. We can help you find alternatives in footwear that will work best for your feet.