Work with a Sports Medicine Physician, and a Runner
Podiatrist Dr. Wachtel
Athletes and Marathon Runners… I am Verklempt
Podiatrist doctor Wachtel is a runner and a sports medicine physician who is a specialist in runners athletic feet issues.  After many requests from other athletes Doctor Wachtel has recently started his own podcast, "Athletes and Marathon Runners… I am Verklempt".
People who are on their feet the entire day, as well as avid walkers, runners and athletes will greatly benefit from this terrific podcast that focuses on foot health, practices, and products that can enhance your overall experience.
---
---
Enhancing Your Foot Health Journey with Dr. Mitchell Wachtel, DPM
Are you an athlete or a passionate marathon runner seeking expert podiatric care in North Andover, Massachusetts? Look no further. Dr. Mitchell Wachtel, a seasoned sports medicine physician and dedicated runner himself, is here to cater to all your athletic foot needs. We proudly present our latest venture, the "Athletes and Marathon Runners… I am Verklempt" podcast, a valuable resource for individuals constantly on their feet.
Common Athlete Foot Problems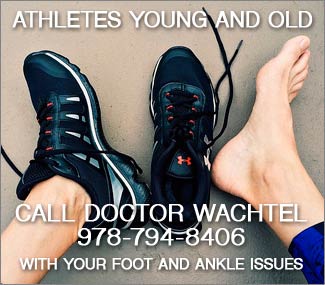 Request a FREE Book for Runners and Athletes
Podiatrist Doctor Wachtel is offering a limited run book free to athletes and runners.
Click here to request your copy of The Runner's Healthy Foot and Ankle Book.
Comprehensive Podiatry Services in North Andover
Beyond podcasting, Dr. Wachtel and his team provide a wide range of podiatry services to address various foot concerns. Conveniently located at 451 Andover St, Suite 300, North Andover, MA 01845, our office is equipped to assist with:
– Custom orthotics
– Wound care
– Specialized shoe programs
– Ensuring healthy development
– Addressing common dermatological issues
Working Feet Assistance
– Catering to individuals with occupation-related foot concerns
Active & Athletic Feet
– Tailored solutions for athletes
Support in Corrective Footwear
– Guidance on choosing the right footwear
– Specialized care for sports enthusiasts